Placing Orders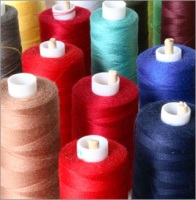 We try to make your experience as easy and stress-free as possible. You can place orders with Stitchin' Waves by stopping by our store, over the phone, or via email.
Our store is located at:
Stitchin' Waves
4433 South Tamiami Trail
Sarasota, Florida 34231
If you're not located in Sarasota, Florida or if you'd prefer to place an order another way, you can email us or call us at 941.929.1155. We're more than happy to assist you. And remeber, Stitchin' Waves has no minimum order on embroidery.

PLEASE NOTE: When setting up logos, all digitized logos remain the property of Stitchin' Waves, ownership of the digitized logos can be obtained for an additional fee.
Frequently Asked Questions
How much does it cost?
The price for any embroidery work is dependent on the garment, the complexity of the work, and the number of items.
How much does it cost to set up my custom logo?
Most logo can be digitized for embroidery for $45. An additional fee may apply to more complex logos. Be sure your submitted logo is exactly as you want it. No charge for most edits.
Need a quote?
We're happy to provide quotes for any amount of work. Simply call us at 941.929.1155 for a quote. For simplicity custom logos receive a flat rate pricing. We do not worry about stitch counts unless your logo has more than 8000 stitches.
Which payment methods do you accept?
We accept cash, check, Visa, Mastercard, Discover, and American Express.
How long does it take to have an order completed?
There are certain variables such as emailing a proof that will cause your order to take a little longer. Also, certain times of the year can take a little longer. We do our best to include the approximate lead time with each item. Our lead times do not include shipping time.
If I want something for the December holiday season, when should I order?
Warning to all you procrastinators out there, Stitchin' Waves is based in Sarasota, Florida. High traffic at certain times of the year this rush can affect lead times. Your order can be shipped or picked up. Due to this we can generally keep our busy seasons from affecting our lead times by more than a day or two. This is true for all times of the year except the holiday season. All wholesale orders that are needed before the peak of the holiday season (December 20th) should be placed by the end of November.
I am a procrastinator and I need them ASAP. Can you do it?
We deal with hundreds of professional certified procrastinators each year and dozens of people who have been thrown the task of getting 100 shirts with company logo within 10 days, we can help. If you need to rush your order faster than our quoted lead times, please email us at rush@stitchinwaves.com. This service does cost more and as always, we reserve the right to refuse any order for any reason. Rush orders typically have a 30% cost premium and require expedited shipping. Stitchin' Waves always ships rush orders via UPS next-day or FedEx overnight. On rush orders, this will be added to your order. Alternately, we can ship using your account number if you wish. We cannot accept responsibilty for any shipping company delays as they operate out of our control. We can usually produce your order as fast as you need it.
The most memorable story was one client in the summer of 1997 did. The order was for 150 shirts with custom artwork they needed them by Thursday, the first time they spoke to us was Tuesday The shirts they wanted had to be ordered from our supplier to arrive at our location on that same day. We had a courier pick it up for us and we started the artwork in the afternoon and had it finished by the evening. We then proceeded to work around the clock to finish and ship the order. The shirts arrived folded on Thursday morning nothing was missing and the embroidery was just as requested. A side note: this occurred during the UPS strike - we also had to find an alternate shipper.
Can my letters be outlined in a different color?
Yes, this would be a custom logo. Email us a JPG file.
If I want my own logo, you can just scan in my logo, right?
We'll make it appear this easy to you. On our end, we only wish it was so easy. The process that we use to create your logo is basically glorified digital tracing. It is time consuming so there is usually a charge for this service.
The first part of the procedure is simple, just mail a business card or copy or your company letterhead you can email us .bmp, .jpg, .gif, or .eps and you can even supply us with a link to your web site and we can take it from there. Just remember that the clarity of the image that you supply us with is directly responsible for the clarity of the embroidery on the final product. We will let you know of any charge that you may incur before we start, you are under no obligation.
I need a Yankees cap. Can you do it?
We cannot embroider licensed logos unless you hold the license.
I don't have a JPG. What should I do?
You can send us your logo in any format you'd like but only JPG files receive the lowest digitizing charge.
Is a JPG good enough for the highest quality embroidery?
Don't worry about the quality. We will email you a proof before we stitch anything. Our digitizer traces your logo to lay the stitch pattern out. The quality of your image should be good but it does not have to be perfect. You can still have the best embroidery.
How do I get my logo to you?
If you need to email us a logo to get our opinion please email us.
What if I don't see the garment I need on this website?
We try to show an overview of the most popular items we carry, however, due to the ever changing items available, we can't possibly show you everything we have to offer. If you are interested in an electronic catalog of the garments that we can get a hold of please Call us at 941.929.1155 or email us.
OK, how do I get started?
You can contact us with your basic information. What are you looking at creating? Tell us what would you like it stitched on. Do you have it on file, or is it just an idea in your head?
I really would like to see something in my hand before I commit. Is there a way to get a sample?
Since we have no minimum order for embroidery, we allow you to order as few a single item at a time. This is a great way to see a sample. When you order, you will also receive a proof via email before we begin production.
We are a non-profit organization and/or working on a tight budget. How inexpensive can this be?
Whether you are non-profit or not, some people are given a strict budget and need to get a lot done for as little as possible. If you are non-profit and you can give us your tax-exempt number to prove it along with an extended lead time we will try to work around your budget issues as best we can to allow you to get what you need. The same applies if you are just working on a tight budget. If you are up front with how much you are looking to spend, we will do everything in our power to help as long as you don't call on December 23rd (we're usually a little busy then).
What if I don't like it?
We will do our best to accommodate you. We are committed to customer satisfaction.
How do I order?
You can place the order in person, over the phone, or via email. If you need help, we can offer assistance. We have an incredibly simple (easy to use) order form considering the complexity of our products. Click here for our manual order form.
How do I check the status of my order?
How do I contact you?
If you are ready to order, you can visit our store, place an order over the phone, or via email. If you still have questions, please email us or call us at 941.929.1155.